Because all brides (and grooms)-to-be deserve to understand what they are looking at…
The wedding industry is dominated by the internet, this we know for sure.  Between Pinterest and the big wedding sites, there are heaps and heaps of information forced upon betrothed couples. The ability to look at this incoming information with a realistic eye is so important if you want to keep your sanity while planning a wedding. The purpose of this post is to reinforce the idea of this realistic eye by presenting an explanation about what exactly you are looking at when you visit those major wedding websites.  I want to explain that I am not hating on the big wedding sites. It's not about that at all, and it's not about all wedding sites.  You know the ones I'm talking about.  This post was 100% inspired by an article in The Huffington Post by wedding planner Danielle Rothweiler entitled Those Wedding Websites Created by Satan's Helpers, and it is awesome!  The morning I found Danielle's article and started reading, I found myself saying "YES! YASS! So true!"  Danielle put into words many of the thoughts that I had about the big wedding sites, but didn't know how to say it.
Reviews and Awards
Many in the wedding industry display awards badges on their sites, courtesy of the big wedding websites.  "Best of" awards for each year and each category are common.  Danielle calls these awards "great doorstops," because they don't really mean much.
 "Awards are funny that way in that a lot of people like to say they are "award winning" because a lot of people like to hear it.  But it's not a Purple Heart or a Nobel Peace Prize. Nope. It's a popularity award that you can essentially buy or give yourself." – Danielle Rothwieler
Since much of the determination for these awards are based on reviews and who knows what else, it's hard to take them seriously.  Not that I blame any business for prominently displaying their awards – I would too – I just want to explain what it all means.  In a perfect world, every married couple would write a perfectly great review everywhere (because really – there's Facebook, Google, AND the big wedding sites… that's a lot) after their services.  But this doesn't happen.  While I'm sure some of the reviews happen organically, most probably don't happen without a little prodding of the customer to complete the review.  That kind of sucks, and it's no one's fault!  It's just life.  Does that mean that Big Wedding Site's Florist of the year's reviews are fake?  Not necessarily.  But did the florist have to rally their customers to review and vote for them on big wedding site?  That's likely.  So, that's a lot of time spent on a task other than whatever service the business is actually in business for.
And all that effort is just for a doorstop?!
You Have To Actually Pay to Play
The big wedding sites do provide a decent directory of wedding industry services that is easy to use.  But do you know if you're actually looking at all of the table rental businesses in your area when you searched the Big Wedding Website?  And so do those listed first, or listed as 'featured' means that they are better?  The answer is no.  Businesses have to pay quite a bit of money to even BE in the directory on the site, and have to pay even more to be listed first or 'featured'.  Many wedding industry businesses find that this is valuable, which it probably is because we are generally pretty lazy humans who click on the first listing after searching ANYTHING.  But we are talking hundreds to thousands of dollars that (mostly) small businesses are dishing out just to be included.  I personally know several industry experts that have quit investing in the big sites altogether.  Because word of mouth and quality of service speaks louder than being included on a website directory.  So, honestly, who comes up in your search on the big site depends on how much money that business has thrown at them.
Unrealistic Freebie Templates and Timelines
I've had some brides who swear that these work for them, and I believe them, but for the most part, they aren't customize-able and realistic.  Of course you can use the big wedding sites but not use their 'free budgeting tool' if you don't want to.  And you probably won't find them helpful if you do.  But in Danielle's article,  she talks about how these templates really bug her…
"The icing on the proverbial wedding cake are the numbers that they come up with. To start, there is no way to tell any couple what they should budget for any damn thing without knowing what they actually want. What is the purpose of me telling a couple they need to set aside $10,000 for flowers if they don't want to use them in the first place?." – Danielle Rothweiler
True dat. Not to mention, that oftentimes the author of these tools is more like a magazine editor than an actual event planner.  I guess as long as it looks good on paper, it's good enough for them.  Your checklist, timeline, and budget WILL be different from everyone else's, and that's for sure.
The moral of this, and Danielle's, story is to be knowledgeable about what you're looking at on the internet's various wedding websites. Know that winning an invisible award, or being featured on the Big Wedding Website doesn't automatically mean that you are looking at the best caterer around.  It could merely mean that the caterer had a larger advertising budget than others.
Please check out the entirety of Danielle Rothweiler's Huffington Post Article below…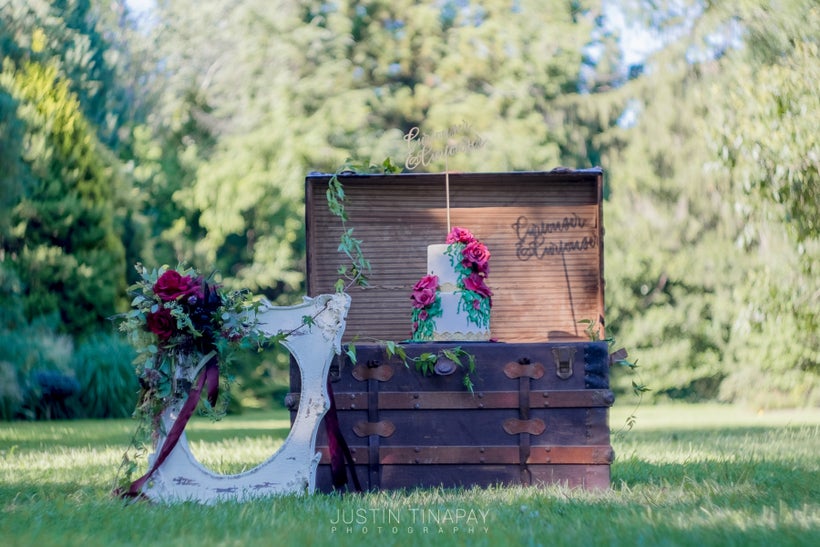 Source: Those Wedding Websites Created by Satan's Helpers | The Huffington Post
Follow